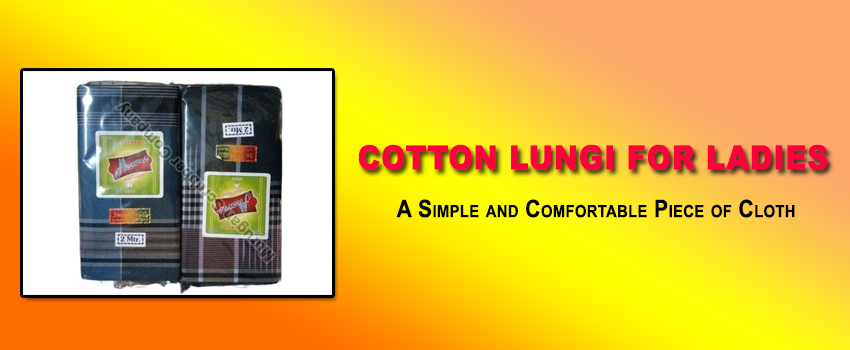 Cotton lungis for ladies are available in the market. They are available in different patterns, fabrics, and designs.
If you live in South Asia, you are surely aware of the term lungi." It is a kind of traditional piece of cloth worn by men and women. This small piece of cloth is expected to cover the waist and extend to the ankles. For some people, it seems like a long skirt or even a sarong. Earlier, only men preferred to wear it. However, the trend has changed now completely, and the lungi for ladies is available in the market. The lungi for a girl or a lady may differ in pattern, fabric, and design as compared to the lungi available for men.
The special design of Lungi has made it a popular choice for everyone, and Cotton Lungi for Ladies is in high demand. Due to the level of comfort, cotton is a popular option for lungis as it is breathable, comfortable, and suitable for hot and humid climates.
Let's discuss the key features of a Cotton Lungi for Ladies:
Fabric: Made of Cotton
As stated earlier, the lungis for girls are commonly made from cotton. It is a natural fiber and has the best softness and comfort.
Length of the product
Since you are choosing a stylish lungi, they are commonly long enough to cover the legs directly from the waist to the ankles. However, now designers on the market are coming up with innovative ideas and making stylish pieces for stylish girls.
Patterns and Colors
These products are available in a broad range of colors, patterns, and designs. They also have special traditional prints, floral patterns, or fashionable motifs.
Waistband
Several products now come with a stitched waistband for ease of wearing. They are easier to wear and secure around the waist.
Flexibility to wear
Lungis are supposed to be quite flexible pieces of clothing. They can be worn in different ways according to cultural practices and even personal choices. They can be covered in an easy way or with more difficult folding techniques.
Occasions
Cotton lungis are sometimes used as casual and comfortable attire for regular usage, particularly in areas with warm weather. They are even appropriate for specific cultural events, holy ceremonies, and informal get-togethers
It's essential to note that the design and style of the lungi can be different according to cultural and regional choices. In many areas, the lungi might be more commonly used by men. In other words, it can be equally admired by both men and women. If you are willing to buy a good quality cotton lungi for ladies, it would be better to look into the local markets, online stores, or retailers that deal in traditional and ethnic clothing.
Make an online search for the quality lungi available in the market. Go for the products available at the best price in the market. The quality of the fabric should be a top consideration.